Sound & Speaker Installation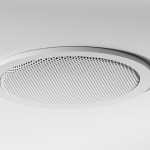 Ceiling speakers are great way of having music in various rooms of your home without the bulk of having speakers on the walls or bookshelves. They look great and offer good sound quality.Ceiling speakers are unobtrusive, save space and fill your home with sound. They can also be very economical. You must wire for ceiling speakers while your home is being built. A special kind of speaker wire is run through the ceilings of your home which then lead to your stereo equipment, ipod, dock or bluetooth receiver so that you can play music from your portable devices. You can have a simple setup with just two speakers in a room or whole home audio with separate zones allowing you to listen to different music in different rooms simultaneously.
This is far easier to install when the house is being built and a effective way of future-proofing your home.
Call Valuguard at 519-699-4020 to request a quote for your home or email us